As modern yogi's we know very well how to attain a 'Zen' state of mind. But as soon as we finished our session we seem to be for ever busy again. The mind takes over and divides our world in black and white. Nada Yoga (the yoga of sound) and Bhakti Yoga (the path of the Heart) are powerful ways to multiply our moments of spiritual alignment in everyday life. It helps us to keep our vibration high and to transform denser vibrations we are so often surrounded wit
FACILITATORS
In this week we bring two traditions together with two teachers that are knowledgeable, experienced and deeply inspired by the sacredness of both traditions. In October they invite you to join this lively and transformative experience at Mas Vilalte, a former Monastry in the French Pyrenees, on the lands where druids have been working with their ceremonies and rituals. The perfect recipe for a highly transformational week!
Zeger Gabriël (The Aeon Tree)
… is an inspired multi instrumentalist that has explored the sacred music traditions in India, South America and Africa. "Playing and listening to music has become a form of meditation, a doorway to silence, a journey through the subtler realms of the spirit into the depths of our being". Zeger will share practices to open and free the voice; musical improvisation, sound journeys, singing circles, exercises to deepen our listening and increase our awareness of subtle frequencies and overtone singing. This is an ancient vocal technique used in Mongolia, Siberia and Tibet.
Find more about Zeger on his website:
https://www.innersoundretreat.com/about-me
Noëlle Sterk
… has been offering yoga classes, retreats and travels over the last 15 years, including Mystical India trips every year where she picked up her appreciation for temples, ceremonies and devotional singing. Noëlle is currently traveling with her campervan where she met Zeger in a singing circle in the South of Spain. She got very inspired by his approach to music and started studying with him. In this retreat she will be offering yoga, body- and breath-work, nature walks, sharing and ceremony, to support the deep process of transformation that music can bring. "When you hear Zeger playing, you hear pure Soul. with nothing in between. When you hear Zeger talk about Music, it is as if he is talking about God.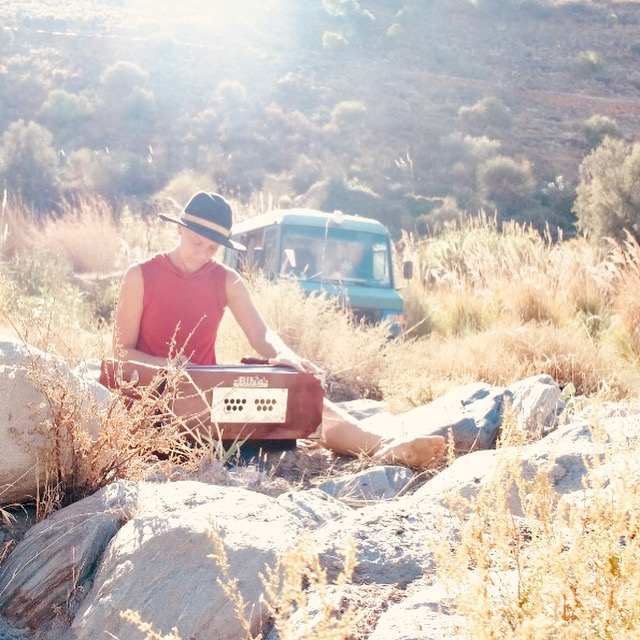 NADA YOGA
Yoga is an ancient practice from India where music and sound are consciously applied as a means to harmonize our body and mind. To make a deeper connection with our own sound, the practice of Nada Yoga can be of great help. We learn how to experience a musical unfolding from within, an effortless action taking place in the body without interference of the thinking mind. And we discover that our inner sound has the potential to restore energetic imbalances and realign ourselves back to our center, thus helping us find balance, clarity, joy and inner peace.
BHAKTI YOGA
Bhakti Yoga is the yoga of love and focusses on spiritual alignment. It does not matter which tradition or religion you follow or not; each and every one of us is capable to recognise what is good, what is real and what is love. To give that expression in everyday life is a simple form of bhakti yoga. There are many scriptures that explain that Love or God is seated in the heart of every living being. While doing the dishes, cooking, gardening, we can dedicate our actions as a service to God. Kirtan, Bhajan and mantra chanting are practices that can lead one directly into the heart space where we become one with the Beloved.
THE VENUE
We combine the untamed nature of the Pyrenees with the luxury and romance of Mas Vilalte, a former Monastry that has been completely renovated. The venue is situated on an energetic powerful place, which can be felt in the vibe around the premises. There is a lot of iron in the soil which is said to be accelerating certain processes. Back in time this was a place where Celtic druids were active; something you can still see in the environment. The biggest treasure is the natural pool, designed by an architect that understood sacred geometry, just like Constantino (the landlord) is specialised in upgrading water quality where as Manuela, the landlady, is taking care of the organic gardens. We serve 3 vegan meals per day and you can choose for the privacy of a single room, the coziness of a shared room or the budget option in dormitory in combination with seva.
DAILY RHYTHM:
08:00-10:00 bhakti yoga with Noëlle
10:00-11:00 breakfast
11:00-13:00 nada yoga with Zeger
13:00-14:00 warm lunch
14:00-16:00 free time
16:00-18:00 nada yoga with Zeger
18:00-19:00 light dinner
20:00-21:30 bhakti meets nada
Bhakti Yoga includes: yoga, ceremony, sharing, singing, philosophy
Nada Yoga includes: music, sound, silence, listening, improvisation, (overtone) singing
Bhakti meets Nada includes: singing, ceremony, bodywork, breathwork, yin yoga with live music
Karma Yoga includes: seva (voluntary service) after breakfast, lunch and dinner
PRACTICAL INFO:
Arrival: Friday 28 October (14:00-18:00)
Departure: Friday 4 November (14:00)
Address: Mas Vilalte – Route de Batere – 66150 Corsavy France
PRICES
Normal : 1.222 euro (double room occupancy)
Early Bird: 1.111,- booked before 31 July
Free Bird: 999,- sleeping in campervan
Karma Yogi : 888,- dormitory / campervan + SEVA (selfless service , 2 spots available
one on one sessions 77 euro (massage, coaching, vocal training)
single room occupancy + 222 euro