Onderzoek naar de roots van yoga & meditatie
For English see below
Mystical India is een 10-daagse pelgrimstocht; op zoek naar de roots van yoga, meditatie, mantra en rituelen. En vooral: de relevantie hiervan voor je dagelijkse leven. Een onbeschrijfelijk mooie reis die ook mij als organisator iedere jaar weer zoveel inspiratie en verdieping geeft. Met dank aan mijn reisgenoot Arjuna van der Kooij die jarenlang in India gewoond heeft en de weg kent in het spirituele landschap. Lees verder (in het Engels)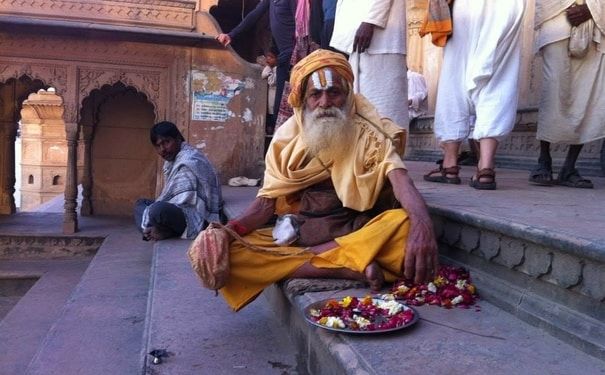 Many participants have been overwhelmed by the intense beauty of this 10-day pilgrimage already. Read some references down the page and check out the Mystical India albums in our photo gallery on Facebook.
If you are curiuos about the mystical rituals and wonders of India, interested in the deep wisdom behind yoga, open to spiritual growth andwilling to look at the world from a different perspective, this is absolutely your journey. Also when you are "not a group traveler".
We will visit four of the main pilgrimage places in North India: Rishikesh, Haridwar, Varanasi and Vrindavan. Each one of them has a specific value and we tune into a different path of yoga in each area. We will investigate the relevance of Hatha Yoga (physical exercise), Jnana Yoga (holy scriptures), Karma Yoga (selfless service) and Bhakti Yoga (devotion to Love/God)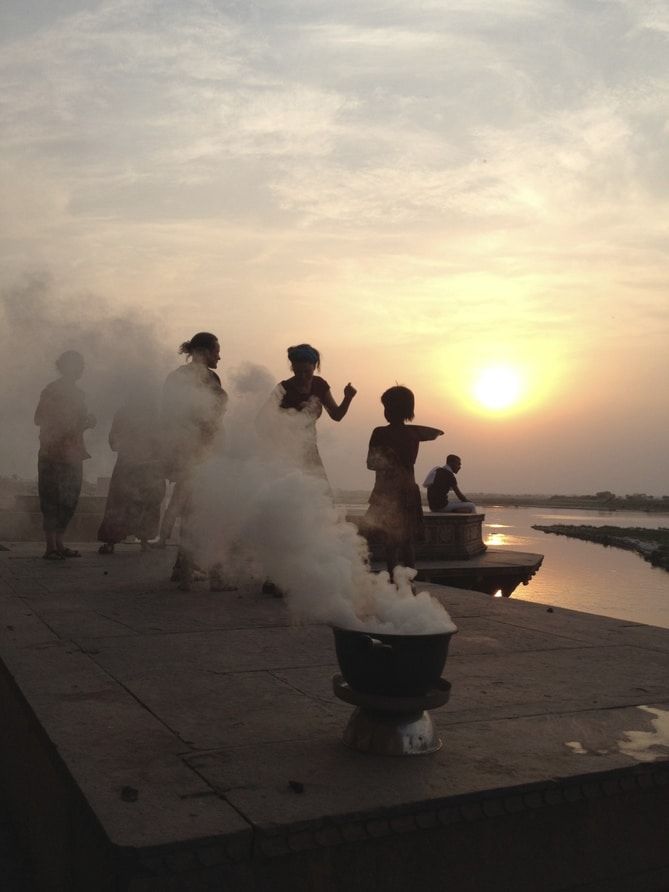 We have daily yoga & philosophy sessions, practice meditation on the banks of the sacred Ganges, meet with sadhu's, visit ancient temples, meditate in sacred Himalayan caves and dive deep into the wonders of Yogic India—most of them off the beaten tourist track.
Traveling with us will make you feel safe, comfortable and provided with anything you need. Transport, accomodation and meals being arranged saves a lot of hassle so you can focus on the experience. The traveling schedule is intense but there will be enough time for peaceful reflection and to let our experiences sink in. We sleep in beautiful places with an authentic Indian atmosphere.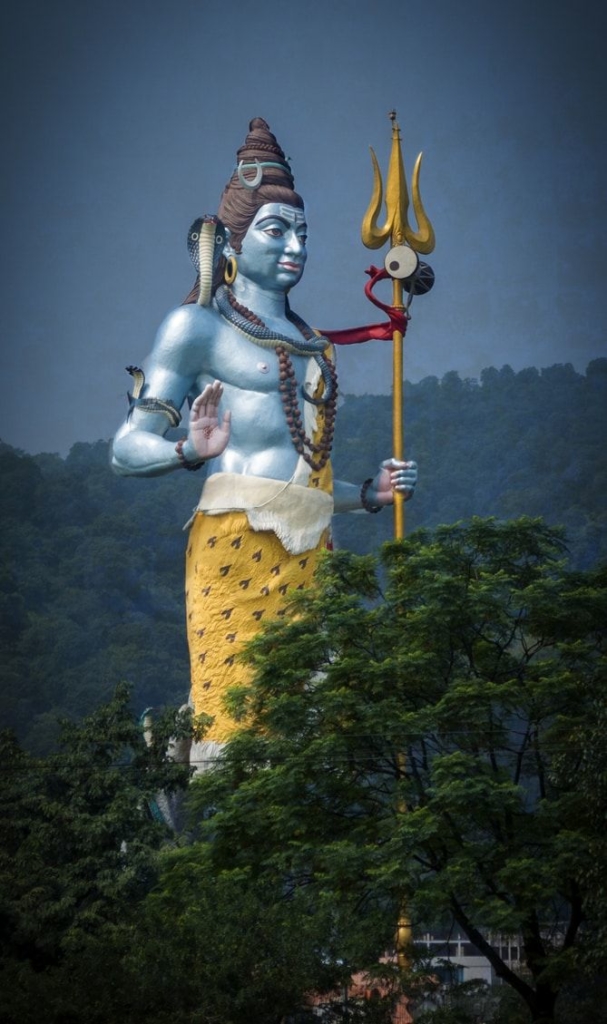 Referenties
"A life changing experience" Everything went smoothly. So much sense and meaning in the way it was organized." The yoga classes were very relaxing and inspiring. I absolutely loved the philosophy sessions and deep meaningfull discussions. I would absolutely recommend this trip!

Margaux Bembaron, Paris/Amsterdam NL
"Most useful for my every day life were the yoga sessions (awesome and well suited for a variety of levels) and the philosophy sessions. Meeting with the holy man (Siddartha's father) and the mediation in the cave – wow! Also the sacred dip in the Ganga was very profound. The laughter experienced on the River Rafting excursion was a memory that will stay with me for a long time. Loved this unexpected therapy and floating in the river. Keep this in!" Both guideds were awesome!!

Anonymous, Calgary Canada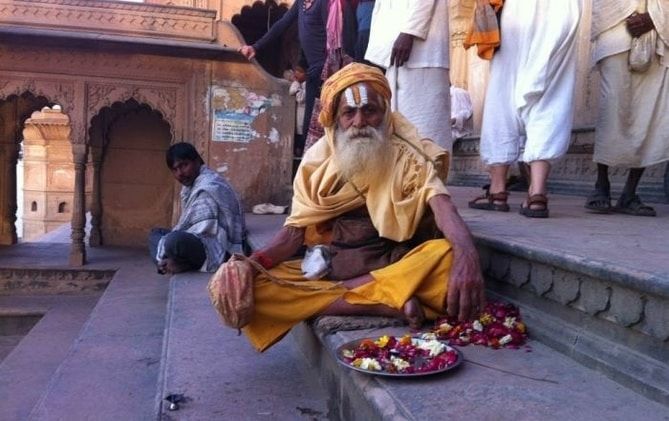 "As a beginner to yoga, and very new at yoga philosophy, I embarked on the trip with openness. It proved to be a powerful experience, with passionate guidance from Noelle and Arjuna. Witnessing so many rituals, participating in kirtan, visiting ancient temples and practicing yoga in sacred spaces. These activities facilitated the process that was happening inside me and Noelle and Arjuna were the perfect leaders to accompany us on this sacred journey". Transport, accommodation, food, activities etc. There really wasn't much for us to have to think about and that allowed us to really engage with the process and not be distracted by logistics."

Maria Hauck, Capetown, South Africa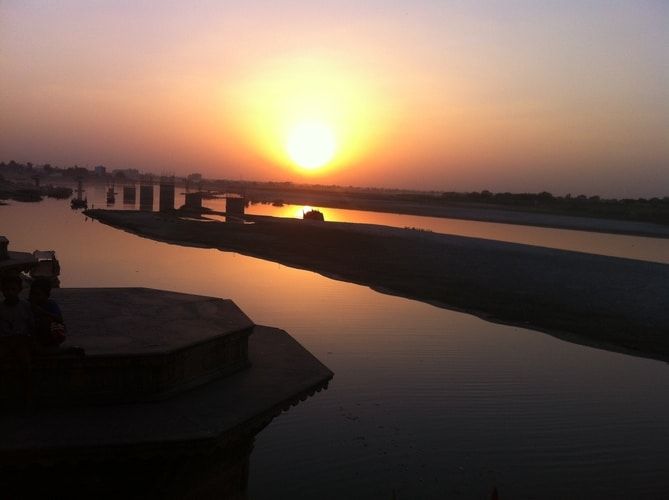 PROGRAM
Day 1: DELHI
You will be welcomed at the airport and transferred to Jyotir Mahal, a lovely hotel in the 'backpack' part of Delhi (main bazar) The next morning we take a train at 6.30 AM.
Day 2-5: Rishikesh
We travel by train in 5 hours from Delhi and contintue by car to Rishikesh. We arrive at 13.00 at High Bank in Tapovan, a laid-back area next to the busy village center. We will practice yoga on beautiful spots, attend evening rituals and take sacred dips in the Ganges. We will meditate in a special cave where the sage Vasishta meditated and do a spectacular raft on the Ganges river. There will be one day off-programm so you can discover Rishikesh by yourself.
Day 6. Haridvar
In the afternoon we travel back to Haridvar and attend an impressive ancient sunset ritual at the Ganges. In the evening time we take the night train to Varanasi which is quite an experience.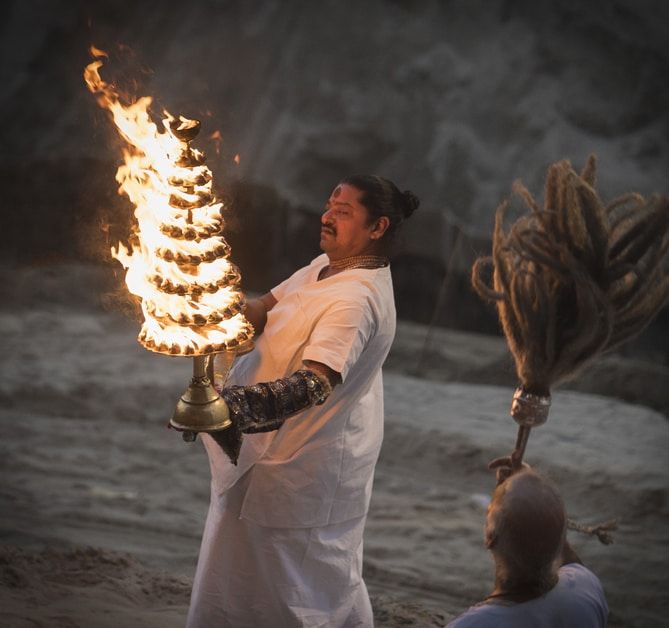 Day 7-8 Varanasi
We arrive in our beautiful hotel in Varanasi in the early afternoon. Varanasi is the most ancient city on earth. We will explore the river and visit the burning grounds by boat. We make a sunrise boatride in serene silence. We practise yoga and visit some of the main Shiva temples. In the evening we take the night train to Agra.
Day 9,10 Agra & Vrindavan
We will arrive around sunrise and take a little boat to peep at the Taj Mahal from the outside. At the end of this journey you he can visit the Taj Mahal from the inside. We have lunch on our way to Vrindavan and in Vrindavan we'll check in the MVT Ashram, a very nice Krishna place next to Iskon Tempel. We will vist some of the mystical temples of this amazing pilgrimage town, which is the birthplace of Krishna. We will visit Sadhu's, walk a pilgrim route around the village and practice kirtan.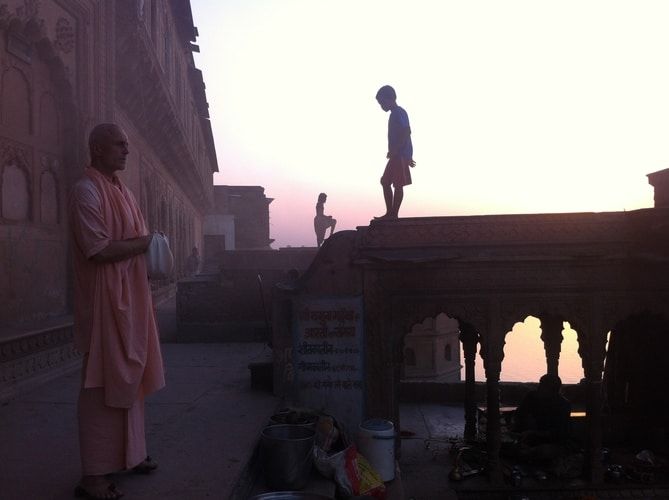 Day 11 Vrindavan
Around 12:00 Closing ceremony & departure to Delhi.
Optional: Taj Mahal excursion (the taxi back to Delhi can drop you there for a few hours)
INVESTMENT
€ 1250.- ALL INCLUSIVE.
INCLUSIVE: daily yoga and meditation, excursions, three meals a day, all transport and accommodation and all entry fees.
EXCLUSIVE: flight (approx 550), Visa (approx 50) and insurances
YOUR GUIDES
Arjuna van der Kooij (44) works as an editor for Mandala Publising, a US based publisher on award winning yoga books. He authored "Myths of the Asana's" and a few other books and edited many. He lived in India for 6 years, and is a long time practitioner of bhakti yoga and mantra meditation.
Noëlle Sterk (46) has been studying and teaching yoga for around 10 years, in combination combined with different traditions and health systems from all over the world. She loves to share the similarities, her personal experience and her strong intuition for 'what is needed here and now' in contemporary yoga classes, empowering coaching sessions and healing massage therapy. You can join her on several Yoga retreats and trips. For more info check www.noellesterk.com
POWERED BY
Natural Yoga, events & retreats inspired by yoga & nature
www.naturalyoga.nl