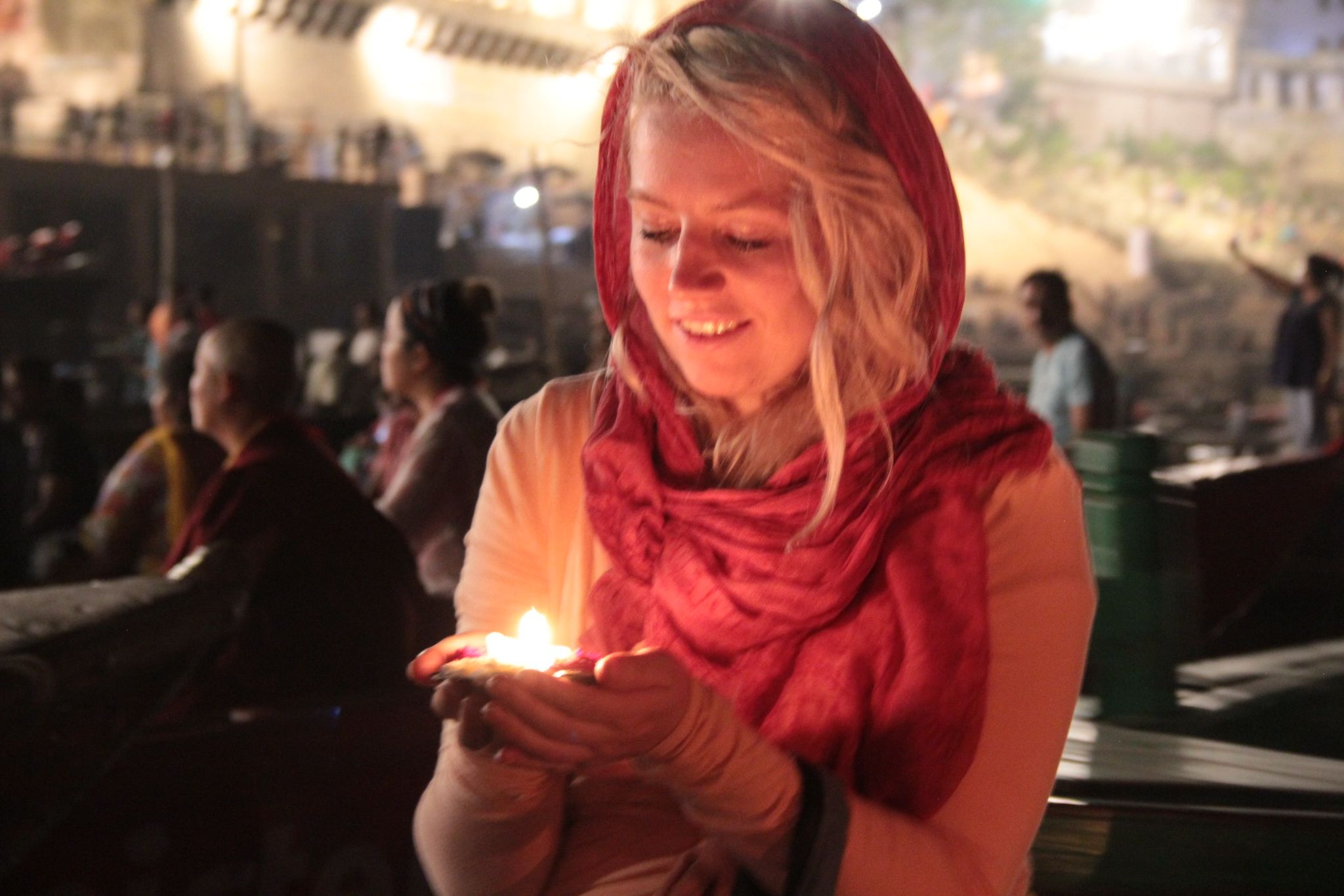 Mystical India 2023 met Arjuna, Blanca & Noëlle
The word "sacred" is being used a lot in yoga, tantra, kirtan and mantra, medicine plants and more. But what does Sacred really mean and what are we yearning for when using this word? Something Divine, God, a higher state of consciousness, transcendence, connection with Source, healing, the higher Self, harmony, Oneness, transformation, Love ? Arjuna, Blanca & Noëlle invite you to jump on their flying carpet, to take you on a journey to four main pilgrimage places in Northern India. Be prepared to doubt yourself if it is real or if you are on a movie set. You'll be taken from one spiritual highlight to the next mystical experience,  exploring the spiritual depths of an un-explicable country.
India, the mother of many traditions
India is the cradle of spiritual traditions and religions that are being practiced for thousands of years. The Vedic scriptures are the source of Hinduism, Buddhism, yoga, tantra, Advaita Vedanta and more. Even Jezus spent his "unknown years' in India. In this pilgrimage we will meet the many sacred faces of Mother India, exploring the four main paths of yoga and the difference or similarities between yoga & tantric practice.
Why fly to another culture? 
Why would you take a plane (that in the first place) to explore a culture that is not yours? Why not just sit in our meditation pose, play in a tantric temple night or join a kirtan around the corner? We find it hard to explain, but Mother India will and for every soul she will have a different answer. Whatever the outcome, you will carry the seeds of this pilgrimage in your heart until they sprout. A remembrance of something so deep and so different from what we've learned. Let Mother India shake your roots!
Where do we go? 
We will visit four main pilgrimage places in North India: Rishikesh, Haridwar, Varanasi and Vrindavan. Each one of them has a specific value and we tune into a different paths of yoga in each area. We will explore the relevance of meditation and yoga; the power of mantra's and kirtan, experience the divine taste of temple food (prasad), feel the deeper meaning behind temples, rituals, ceremonies and the adoration of stone 'statues' which some believe to be 'alive'. What do the sacred scriptures tell us about our eternal soul, the layers around the soul and our connection to the Supersoul? What can we learn from selfless service without any attachment to the outcome ? And what is "devotion" truly about. A big misunderstanding is the so-called worshipping of something external. But if you really dive deep, you 'll understand that every temple and every puja is representing your inner world.
Tantra, Neo Tantra
All of this finds its roots in the classical Tantra, something else than neo Tantra that is so popular nowadays. What is the difference and what is the common ground between practicing yoga or tantra? We are not here to tell you any truth. We are eager to bring you to drink from the Source and experience your own thoughts and feelings about it. Be open for new insights and new perspectives, that can enrich your personal life and enhance your spiritual maturity. And maybe even change your life.
You are not a group traveler!?
So sweet; neither are we. Every year we have a group of no-group-travelers and we know by experience how super pleasant it is to have the safety and comfort of a little family around you while cruising the craziness of India. It is not a tourist group, we will all be devotees and eager students, taking pictures with the heart ;)) We will encourage you to follow your own pace in this journey, to remain silent if you need to and take time off if you have to. Our flying carpet will never leave without you so just keep showing up and we will take care of anything else. (and oooOHMGoddess the food!! Can we thank anyone for that?!
What is included in this journey
Transport, accommodation and meals are arranged so you can focus on the experience and your inner journey. The traveling schedule is intense but there will be enough time for peaceful reflection and to let your experiences sink in. We sleep in beautiful places with an authentic Indian atmosphere. The climate in March in Northern India is quite pleasant, around 25C (Celsius) daytime and 15C nighttime in Rishiskesh and a little warmer in Varanasi.
YACEP: This trip is a 50-hours Yoga Alliance Continuing Education Program on the subject of Yoga Philosophy. You don't need to be a yoga teacher or practicioner persé. But the intensity of India and this journey demands an open mind and heart towards spirituality in all of its forms.
PROGRAM:
Day 1: Dehli (1 night)
You will be welcomed at the airport with the driver of your taxi and transfer to Zorba the Buddha, a a lush oasis in Delhi connected to the Osho followers. The next morning we take a train at 6.30 AM.
Day 2-5: Rishikesh (4 nights)
We travel by train in 5 hours from Delhi and continue by car to Rishikesh. We arrive at 13.00 at High Bank in Tapovan, a laid-back area next to the rumourous center. During our stay in Rishikesh we will practice yoga & breathwork on beautiful spots, attend puja's (sacred rituals) and take sacred dips in the Ganges. We will meditate in a special cave where the sage Vashishta meditated and do a 4-hour raft on the spectacular Ganges river. There will be one day off-program in Rishikesh.
Day 6: Haridwar
In the afternoon we travel back to Haridwar and attend an impressive ancient evening ritual at the Ganges. Haridwar lies at the foothills of the Himalayas and is a famous pilgrimage place that means "Doorway to God". In the evening time we take the night train to Varanasi.
Day 7-8: Varanasi (2 nights)
We arrive in our beautiful hotel (with fabulous kitchen) in Varanasi in the early afternoon. Varanasi is one of the most ancient city on earth. We will explore the burning grounds of along the Ganges by boat. We make a sunrise boat trip in serene silence. We practise yoga and visit some of the main Shiva temples. On the second day we will focus on the sacred femninine and viist some special shakti temples, as well as the main Shiva temple called Kashi Vishvabath. On the last evening we take the night train to Agra.
Day 9-10: Agra & Vrindavan (2 nights)
We will arrive around sunrise and take a little boat to peep at the Taj Mahal from the outside which is a magical experience. Later on there is the chance to visit Taj Mahal from the inside (that will be a few hours excursion) We have lunch in a very luxury hotel on our way to Vrindavan. In Vrindavan we'll check in the MVT Ashram, a very nice Krishna place next to Iskon Tempel. We will vist some of the mystical temples of this amazing pilgrimage town, which is the birthplace of Krishna. We will visit Sadhus, walk a pilgrim route around the village and practice kirtan.
Day 11 Vrindavan
Morning time closing ceremony. Departure to Delhi.
INVESTMENT:
€ 1600- ALL INCLUSIVE. 10 nights/ 11 days
INCLUSIVE: daily yoga and meditation, excursions, three meals a day, all kinds of transport, accommodation and entry fees.
EXCLUSIVE: flight (approx €550,-), Visa (approx. €50,-) and insurances.
FACILITATORS:
Arjuna van der Kooij works as an editor for Mandala Publishing, a US based publisher on award winning yoga books. He authored "Myths of the Asana's" and a few other books and edited many. He lived in India for 6 years, and is a long time practitioner of bhakti yoga and mantra meditation. He is together with Blanca and Noëlle the initiator of 'The Bhakti Groove', an Amsterdam based kirtan group.
Blanca Wennekes is yoga teacher and bodyworker, studying and practicing both yoga and tantra and is connected to the business world through freelance jobs. She loves facilitating Ibiza retreats and singing mantra's with The Bhakti Groove and coaching people to be more present in their heart and body. As co-founder of event location De Tempel in Amsterdam she hosted spiritual events with Noëlle until she left on her bike to India. Since she came back she lives in her wooden house close to the forest in Hollandsche Rading with two adorable cats. www.b-conscious.nl
Noëlle Sterk has been teaching yoga and touching bodies for over 15+ years, loves vega/n cooking for retreats and has led many events retreats and India travels. She is co-host of the Bhagavad Gita sessions with Arjuna and together with Blanca and Arjuna the initiatress of mantra collective The Bhakti Groove. She exchanged her comfortable urban yogi life in Amsterdam for off grid van-life in Southern Europe, served at the Babaji ashram for half a year to explore the life of a devotee. But her business spirit and mission to support as many people as possible in their healing process, she recently started her business Feeling Ohm, for massage, healing and soul retreats. Feeling Ohm represents the journey home to your innermost Self. http://feelingohm.com
We hope to deep dive India with you!
Namasté,
Arjuna, Blanca, Noëlle